In Memory
Hubert Dickson - Class Of 1959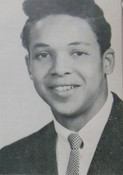 Hubert ``Boobie" A. Dickson Jr., 63, passed away Aug. 24, 2005, at Hospice Care Center in Akron, after a long illness.
Born in Cleveland, Ohio, he lived in Akron since 1957. A veteran of the U.S. Air Force, he worked at the Chrysler Plant in Twinsburg until 1983. Hubert was also a member of the New Hope Baptist Church in Akron.
He was preceded in death by his brother, Dennis, and mother, Mary Thomas Dickson. He is survived by his daughters, Kimberly (Clarence) Dorsey and Hillary Dickson (Louis Brooks); father, Hubert A. Dickson Sr.; former wife, Barbara Dickson; grandchildren, Josiah, Gabriel, and Gabrielle Dorsey, all of Akron; special aunts, Eleanor Davis of Akron and Gloria Watford of Cleveland, Ohio; good friends, Jesse Haskins, Robert Oliver, and Nate Evans, all of Akron; and a host of relatives and friends.
Funeral services will be held Wednesday, 12 p.m., at the New Hope Baptist Church, Rev. Marty L. Henderson officiating. The family will receive friends Tuesday evening from 6 to 8 at the Stewart & Calhoun Funeral Home. Interment at Mount Peace Cemetery. Procession will form and condolences may be sent to 2618 Brice Rd., Akron, Ohio 44313. (Stewart & Calhoun, 330-535-1543.)
Published in Akron Beacon Journal from August 26 to August 30, 2005
Dickson Jr., Hubert A. "Boobie" - Hubert ``Boobie" A. Dickson Jr., 63, passed away Aug. 24, 2005, at Hospice Care Center in Akron, after a long illness. Born in Cleveland, ... Published in the Akron Beacon Journal from 8/26/2005 - 8/30/2005